The new "Visualizing the Virgin Mary" exhibit at the Getty Center Museum brings a religious fascination to a secular space, aiming to capture the ways Christians have imagined the everyday life of Mary and her intervention in their own lives.
This is a small exhibit, less impressive than the previous ones drawn from the Getty's manuscript collection. The bulk of the exhibit is made up of illuminated manuscripts from Europe, dating from the Middle Ages to the early Renaissance.
The exhibition is divided into three parts. The first part, "Mary beyond the Bible," looks at how artists imagined events in the life of Mary that are not narrated (or if so, only briefly) in the Bible. The second part, "Miraculous Mary," looks at the cult of Mary and her role as healer and performer of miracles. The last part, titled "Mary in the Americas," explores the legacy of Marian imagery in the Americas, especially the virgin of Guadalupe.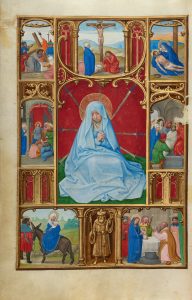 The exhibit's most striking, beautiful image is from a Renaissance manuscript in Bruges portraying the Virgin Mary surrounded by seven spears representing the Seven Sorrows of the Virgin Mary, which are depicted separately in rectangular spaces on the page margins.
What makes the Virgin Mary so unique and so important is, in other words, the mystery of incarnation, which ancient pagan writers found impossible to understand: that the infinite, God, became finite, taking our flesh, in all its weakness, so that ours could also enter eternity.
This small collection is a reminder of the most important thing we share in common with the Virgin: Just as Mary received this announcement from an archangel, we, too, receive life-changing news every time we hear the Gospel announced by another Christian.
As a result, Mary believed and a new, divine life was generated in her. Likewise, our faith promises that a new creature is generated in those who receive the good news and believe it, one with the same spirit of Jesus: a person who is able to love, to forgive, and to give his life for others.
As so many Christian artists throughout the centuries have understood, this new life reaches its fullness in heaven, thanks to the path opened by Christ and followed by his mother.
"Visualizing the Virgin Mary" went on view at the Getty Center Museum Oct. 11 and is open through Jan. 8, 2023.
Full story at Angelus News.